Farmer Companies Saves Nearly $30,000 on Staffing & Software Costs with IntelAgree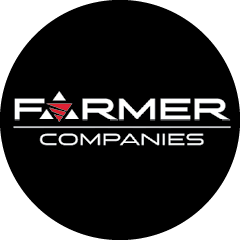 "I needed a tool that could help me with more complicated documents, not just simple ones. The IntelAgree team was great at coming up with the best questions, format, and system to accomplish that."
- Chalegne O'Brien, General Counsel, Farmer Companies
Company
Farmer Companies is a family-owned business that began with a clear vision in the ready-mix and asphalt industry. Ever since it was founded in the 1940s, the company has grown through vertical integration and expanded into other complementary industries. Today, the company's services include asphalt paving and construction, ready mix, aggregates, frac sand, real estate, and logistics.
When Farmer Companies' General Counsel, Chalegne O'Brien, transitioned to the company from a larger law firm, she faced a unique challenge: learning how to do more with fewer available legal resources.
But as the company began expanding into different industries, drafting contracts and keeping pace with contract requests became an around-the-clock job. That's why O'Brien turned to IntelAgree for its self-service contract creation capabilities and personalized clause library to ease her administrative burden. Now, Farmer Companies has the capabilities of a law firm within its family-owned business — and at a fraction of the cost.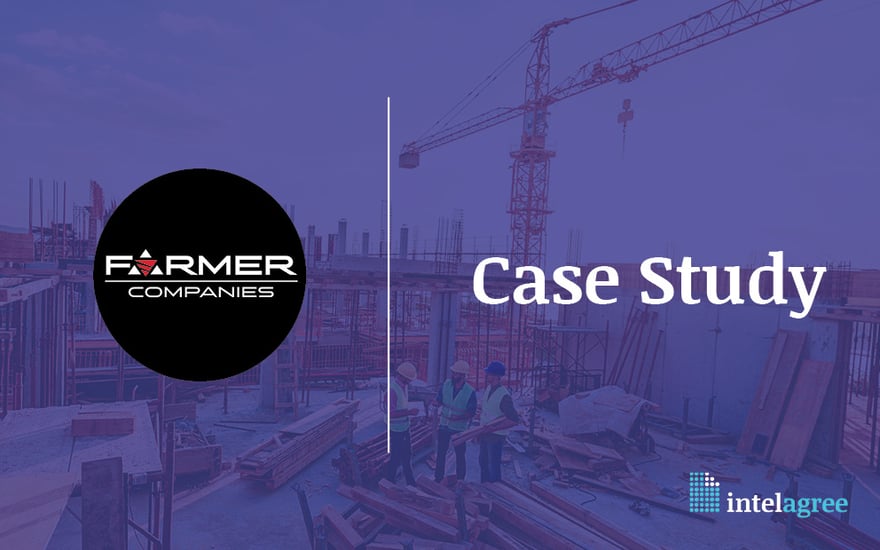 Higher risk exposure due to contract creation inconsistencies
Limited bandwidth to generate contracts at scale
Lacked repository to store and manage executed contracts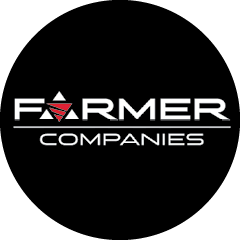 Solution
Simplifying Complex Contracts During Implementation
IntelAgree's implementation team met weekly with Farmer Companies to build templates that meet the company's complex contracting requirements. Together, the teams built 39 unique contract templates — with plans to build more — including subcontractor and employee agreements, property leases, and equipment leases.
The IntelAgree implementation team's ability to ask the right questions and understand Farmer Companies' unique needs was a highlight for O'Brien. "I needed a tool that could help me with more complicated documents, not just simple ones. The IntelAgree team was great at coming up with the best questions, format, and system to accomplish that," said O'Brien. "We worked together on new documents and questions, finding the best process, so now I can use those questions to generate my own contracts."
Once the templates were created, IntelAgree trained Farmer Companies' property manager employees on how to use the platform, then answered the team's questions. "After the initial training, IntelAgree provided follow-up training a week after, which was a great reminder for people to use the platform that week and start practicing with it," said O'Brien. "And whenever we had a question, the implementation team worked with us to figure out the answer that worked best for our needs."
Improving Accuracy with Self-Service Contract Creation
For O'Brien, who came to Farmer Companies from a large law firm, IntelAgree offered the much-needed assistance she needed with contract drafting and reviews.
"When I moved from the law firm to being the only attorney on a team, it was an adjustment because I was used to having more resources available," said O'Brien. "But when I found IntelAgree, I saw it as a great opportunity to maximize my own time and, eventually, roll it out to more teams to help with their requests. In a way, it's like having an AI-based paralegal."
O'Brien is now able to create new contracts with speed and confidence. "What drew me to IntelAgree was the idea that I could have a contract template that asks a few simple questions and automatically inputs the data," said O'Brien. "Now, we're using the platform to generate contracts without errors, and we're slowly rolling it out so that our other offices can feel empowered to create their own agreements."
Saving Time with a Personalized Clause Library
In addition to self-service contract creation, O'Brien is relying on IntelAgree's personalized clause library to save time with drafting contracts and negotiating. Currently, Farmers Companies has 15 total clauses saved in its library and plans to add more.
"Previously, if I looked at a contract and they didn't have prevailing attorneys' fees language, for example, it would take a lot of time for me to find the right language and insert it. But to have a library of these terms where you can find what you need immediately, and just add it with the click of a button, is really valuable," said O'Brien. "Plus, you can constantly improve your own documents by saving well-written clauses from other agreements in the library."
Now, O'Brien has more time to focus on higher-priority tasks, and she has the assistance she needs without the exorbitant cost. "IntelAgree helps me complete the smaller tasks faster, which means I have more time for more important things," said O'Brien. "And when you factor in commute time and the cost of hiring an additional team member, the benefit of IntelAgree is that it's really like having someone in all places at all times, without the high price tag."